26 Sep 2022, Silang Cavite -The culmination of the collaborative efforts of AgriPortal Advocates led by Advocate-Trustee Daniel LK Ching, along with his fellow Advocate-Stewards-Pastors Ricardo King Flores, Loy Sazon, Aldon Adlaon, thru the efforts of AgriPortal Vice President Advocate Alex Sevilla and Creative Digital Manager Advocate Ian Liwanag, together with the humble and diligent leadership of Philippine National Police Academy (PNPA) Director, PBEN.Eric E Noble, his graceful but steadfast better half Dra. Ces Noble, and the officers & cadets of the Academy, marks the Ceremonial Launching of the "Food for the Barracks: Malasakit sa Kapakanan ng Kadete" this day of our Lord, Monday the 26th September 2022 at the serene grounds of PNPA, Silang Cavite.
This purposeful event aims to inculcate in the very young minds and brave hearts of cadets of the Academy the importance of home-growing Bahay Kubo vegetables boosting their spirits of team effort and solidarity in their respective cadet companies to cultivate not just the soil but also as an addition to their learning tool in Food Sufficiency as they will eventually be reaching out to the community they will be assigned to in the near future. As Advocate Flores encourages in his welcome remarks, "Open up all possibilities thru this initiative. Madaling bilangin ang seeds sa isang apple but only God can count the apples inside a seed. Hopefully we can create agribusiness."
"We have all the resources, land and water but we do not have the human resources.
Paglabas po ninyo sa kanya kanyang mga komunidad, kapag dala dala ninyo ang mga ipinunla namen mula dito sa AgriPortal, maipapamahagi ninyo ang kabuhayan at kahalagahan ng agrikultura para maiahon hindi lamang ang inyong komunidad kundi ang ating bansa sa kahirapan," Advocate Ching as he speaks before the cadets.
With the technical presentation and expertise of Advocate Sevilla to hand down the innovative technology of 15/30 Square Foot Gardening, he adds, "The common misconception when we hear about Agriculture – kalabaw, araro, o ektarya ng matabang lupa.
Now, we have the technology ng maliit na lugar o spasyo (to produce food with)… Copy Paste technology."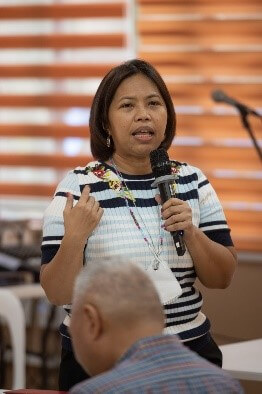 With the surprising and overwhelming announcement of Dra. Ces Noble in amassing team effort of respective cadet companies to nurture gardening, to sell their produce to the Academy's Mess Hall, and to conclude this initiative during their Christmas Party – the cadet company with the highest sale will receive an award from AgriPortal.ph, she fondly asks the cadets, "Agree ba kayo sa AgriPortal?" A resounding "YES" from the delighted brood of seeders uplifted the spirit of this session. Preceding the Ceremony proper, grouping of the cadet companies is mentored by AgriPortal Advocates as follows:
Alpha – Advocate Alex Sevilla
Bravo – Advocate Aldon Adlaon
Charlie – Advocate Atiliano Ligmon
Delta – Advocate. Daniel Lim Ching
Echo – Advocate Violet Paculan
Foxtrot – Advocate King Fllores
Golf – Advocate Ian Liwanag
Hawk – Advocate Loy Sazon
Women's – Advocate Vicky Dongallo
In conclusion of this much awaited event, the Ceremonial Launching of Food for the Barracks is spearheaded by no other than Dir. Gen. Eric Noble and the awarding of the Bahay Kubo kits to the 9 respective cadet company leaders at the PNPA Grandstand. As the bravura and nobility of the PNPA Director General, he leaves an inspiring and high-spirited words for all the cadets, "Ang tanging maipupunla ko sa inyo ay ang aking mapagkumbabang mithiin na maipamahagi ninyo sa komunidad na inyong mapupuntahan, ang Karunungan ng ating Maykapal. Ako ay ginawa Nya lamang instrumento upang kayo ay maging tunay na huwaran at tapat na magsilbi sa mamamayan. Pagpalain nawa kayo ng Poong Maykapal." GDriveLink: https://docs.google.com/document/d/1-SEpmvJA4pM_wLfHUnb0HQbc1nRHA6uBlr5bcwiMvBk/edit?usp=sharing